---
Hello I'm George Joseph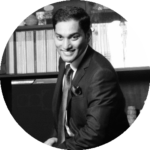 a
mul·ti·dis·ci·pli·nar·y
Business Technology
Strategist
---
Helping businesses with their Digital Transformation in
Web | Mobility | AI | Blockchain | Automation | Cloud
Make IT work for your Business
The speed at which Information Technology disruptions now unfold means that they can cripple a business virtually overnight. This makes it critical for companies to stay ahead of technology trends and be able to anticipate disruptions. This drift is changing the ground rules for everything from products and services to business models and processes for a company
COMPETENCIES
IT Advisory to Start-ups | Go-to-Market Strategy | Proof-of-Concept | Prototyping | Onshore - Offshore Resourcing | Strategic Partnership Building | Compliance and Contracts | Vendor and Stakeholder Management | Digital Transformation Roadmapping
My Professional journey so far.
---
George Joseph is a business technology strategist with over 15 years of experience working in Technology Consulting, Digital Transformation Strategy, IT Talent Advisory, Business Process Outsourcing, Vendor Selection and Technology Sales & Marketing. He is engaged in business technology consulting for a number of start-ups and growth stage companies. His recent engagements include Sales & Business Development for META, consulting CTO for Varlarium a NYC based early stage Industrial AR start-up, Country Manager – Americas for Bridge Global a Dutch custom software solutions provider, Business Development at Millennium Consultants Inc. a New Jersey based enterprise B2B and B2C solutions provider.. He has previously worked with various technology consulting companies and start-ups serving clients including KPMG, Citigroup, Fidelity, Optum – United Health Group, ADP, EA Sports.As a Six Sigma and Project Management Certified consultant, he has proposed a number of digital transformation road-maps for brick and mortar clients, and has provided feasibility studies and strategies for IT outsourcing for start-ups and, SMEs alike. Mr. Joseph has a MBA (PGDM) in Technology Management from Staffordshire University, UK and a Bachelor's Degree in Computer Application.
2022-2023
Manager- Strategic Resources @
Remote Technologies Inc. | Toronto, Canada
2021- 2022
Business Development @
Meta - North America
2019-2021
Strategic Business Development @
Ethos Binary Inc. | Toronto, Canada
2020 - Current
Advisor @ Harvard Business Review
2018 - 2019
Consulting - CTO @
Varlarium (d.b.a 59souls Inc), NYC
2015 - 2018
Country Manager - Americas @
Bridge Global, NJ | HQ-Netherlands
2010 - 2015
Manager Business Development @
Millennium Consultants Inc., NJ
2008 - 2009
Manager Business Development @
Global Infonet Inc., FL
2006 - 2006
Pre-Sales and Marketing @
Profitera Corp Sdn Bhd. |KL, Malaysia
2003 - 2005
Team Lead - Inside Sales @
Aspinwall Technologies, India
Certifications
Process | Methodology | Management
Six Sigma Green Belt Certified (SSGBC)
Project Management - Lean Process Certified (PM-LPC)Industry | Domain Knowledge
HIPAA (Health Insurance Portability & Accountability Act) **
*Trained and Certified in HIPPA (Health Insurance Portability & Accountability Act) *
IBM Blockchain Essentials
Certified by IBM Blockchain Platform - DeveloperWorks
==Software | Technologies**==
MSP Certified - Reselling Microsoft Dynamics 365
*Certified MS Dynamics 365 reseller | Masterclass by Microsoft | SherWeb | CompTIA *
Certified in Cloud Business Strategy
Certified in Cloud Business Strategy | Masterclass by Microsoft | SherWeb | CompTIA
About
---
---
*"Startup success is not a consequence of knowing everything. Whether you like it or not, the fate of your startup will rely on multiple brains, not just your own. Creating a tech startup in today's world can be done by any smart entrepreneur – the key is knowing how to connect with the right network." *– Eric Ries, author of The Lean StartupThis quote explains my philosophy on why "a startup's success in today's tech world depends on its Business Technology Advisor "
Information Technology, made simple.
Founder of businesses are usually faced with fear of outsourcing its IT development need (be it building a web/mobile app, a MVP, a prototype or a product) to the wrong developers. My role is designed to help non-technical founders hire, assess and partner with developers and vetted teams to work or co-work as an extension of your in-house lean IT team. Saving time, money and the guess work that goes into wasted efforts using multiple contractors, freelancers and un-vetted offshore partners.
"Everyone can write, but not everyone is a writer."
Several of my current and past clients had the common problem of not being able critique the developer's decision on the preference of a programming language or platform for a project or may be the time estimations. Most developers are code passionate and they forget the need of the hour or miss to envision the bigger picture and often over engineer a solution or end up not future proofing their approach. Clients overcame having a non-technical founder by hiring a technical partner who could fill the gap. The reason these clients are now a major success is due to the fact their non-technical founders found the right partner, who could help them progress with the help of right technological advice be it Tech or Talent.